We're thrilled to extend our heartfelt congratulations to our Co-Founder, Bilha Ndirangu, and the teams at Great Carbon Valley and Climeworks for their exciting partnership announcement. Together, they are embarking on a journey to explore the deployment of large-scale direct air capture and storage (DAC+S) projects in Kenya, a groundbreaking initiative that carries immense significance.
Why Kenya, you might ask? Kenya's Great Rift Valley offers a uniquely advantageous setting for DAC+S endeavors. It boasts an abundance of low-carbon, renewable energy sources, including geothermal, wind, and solar energy. Additionally, the region possesses geological potential for secure and permanent carbon mineralization deep beneath the Earth's surface.
This collaborative effort between Great Carbon Valley and Climeworks represents a significant leap forward in affirming the region's capacity for scalable, high-quality carbon removal. Furthermore, it positions Kenya as a central hub in the global decarbonization endeavors, which are absolutely essential in the fight against climate change.
During the New York Climate Week, Christoph Gebald, co-CEO of Climeworks, and Bilha Ndirangu, CEO of Great Carbon Valley, had the privilege of meeting with Ali Mohamed, Climate Change Envoy at the Executive Office of the President of Kenya, to discuss the project's exciting prospects and potential impact.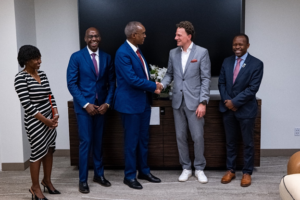 For a more in-depth exploration of the potential for DAC+S in Kenya and the pioneering path being charted by Great Carbon Valley and Climeworks, you may read further about this remarkable initiative here: Climeworks and Great Carbon Valley toward deployment of DAC+S in Kenya