On August 3rd, Jacob's Ladder Africa and the Future of Development Programme at the Oxford Martin School (University of Oxford) jointly organized a roundtable discussion on Green Livelihoods and the Future of jobs in Africa.
The event, held at Nairobi's Radisson Blu Hotel, brought together thought leaders from academia, government, industry, the development sector, and the youth demographic. The objective was to deliberate upon pivotal challenges and opportunities in bolstering Africa's workforce participation within the green economy.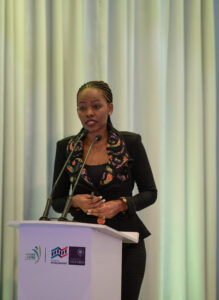 The day commenced with a motivating opening address from Sellah Bogonko, Co-founder and CEO of Jacob's Ladder Africa. Her impassioned call urged the audience to collectively transform climate action into an avenue for cultivating green livelihoods, a response met with resounding affirmation. It can be done!
A highlight emerged during James Mwangi's keynote address, CEO of Africa Climate Ventures, emphasizing Africa's unique potential for rapid green industrial transformation, propelled by its youth, abundant natural resources, and renewable energy potential.
In the first panel were Bilha Ndirangu, CEO of Great Carbon Valley; Fiona Mugambi, Co-Engineer Lead, Octavia Carbon; Paul Wabomba of the Gigatonne project; and Jane Mwangi, CEO & MD of Apprentice Job Works Africa. This panel shared their perspectives from the ground, their experiences as entrepreneurs in the green economy.
Chief Guest Ms. Sheila Mbiru, head of the First Lady's Environment and Climate (Mazingira) Awards of Office of the First Lady and Mama Doing Good organization graced the event.
Dr. Yvonne Maingey-Muriuki, Principal Consultant & Founder of CaelKlima, also gave an address, emphasizing alternative funding models to invigorate livelihoods.
The second panel, "Challenges and Opportunities in Generating Green Livelihoods in Africa," brought forth insights from policy makers, academics, employers, and funders, including Mr. Handson Gichana, Deputy Director of Technical Education, State Department for TVET in the Ministry of Education; Jacqueline Mgosh, Social Performance and Communities Lead at Fortescue Future Industries; Sharmi Surianarain, Chief Impact Officer at Harambee Youth Employment Accelerator (SA); Shivani Kotecha,TECA (Triggering Exponential Climate Action) Program Manager and Talent lead, BFA Global and Dr Lillian Kong'ani, a Lecturer in the Department of Earth and Climate Science at the University of Nairobi
Key takeaways from the deliberations included the demand-driven approach to skills development, the imperative for behavior change, and the necessity of innovative ecosystems to underpin climate ventures' growth.
The outcome of this Green Livelihoods Roundtable was a tapestry of insightful discussions, presenting pathways to unlock job opportunities for Africa's youth within the green economy. We anticipate further engaging conversations.
For a glimpse of the event, watch our video highlight and stay connected with our ongoing roundtable features dialogue on YouTube. Access Roundtable pictures here, as they say, a picture is worth a thousand words.